This is the line up of my most used tools when doing portraits in graphite.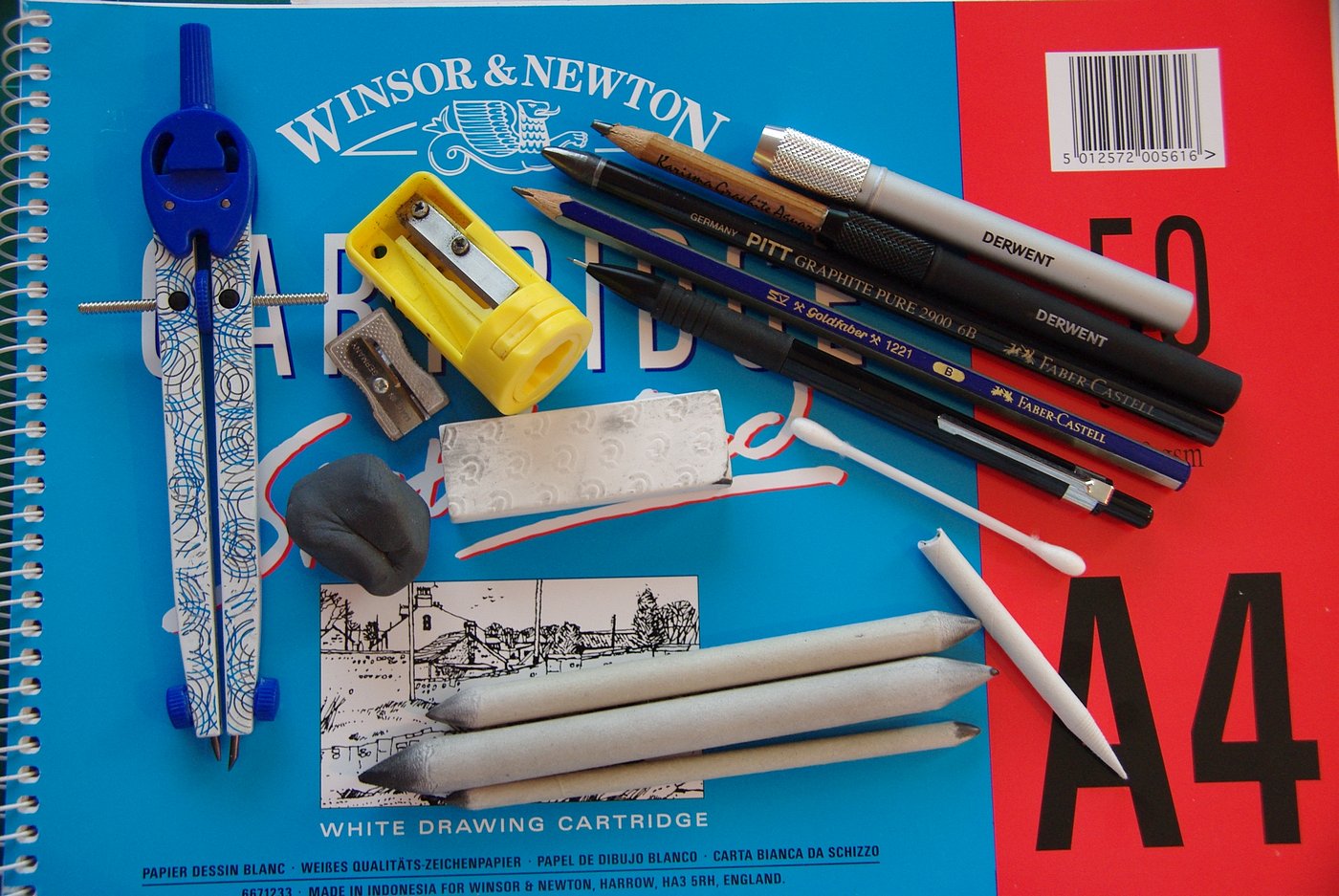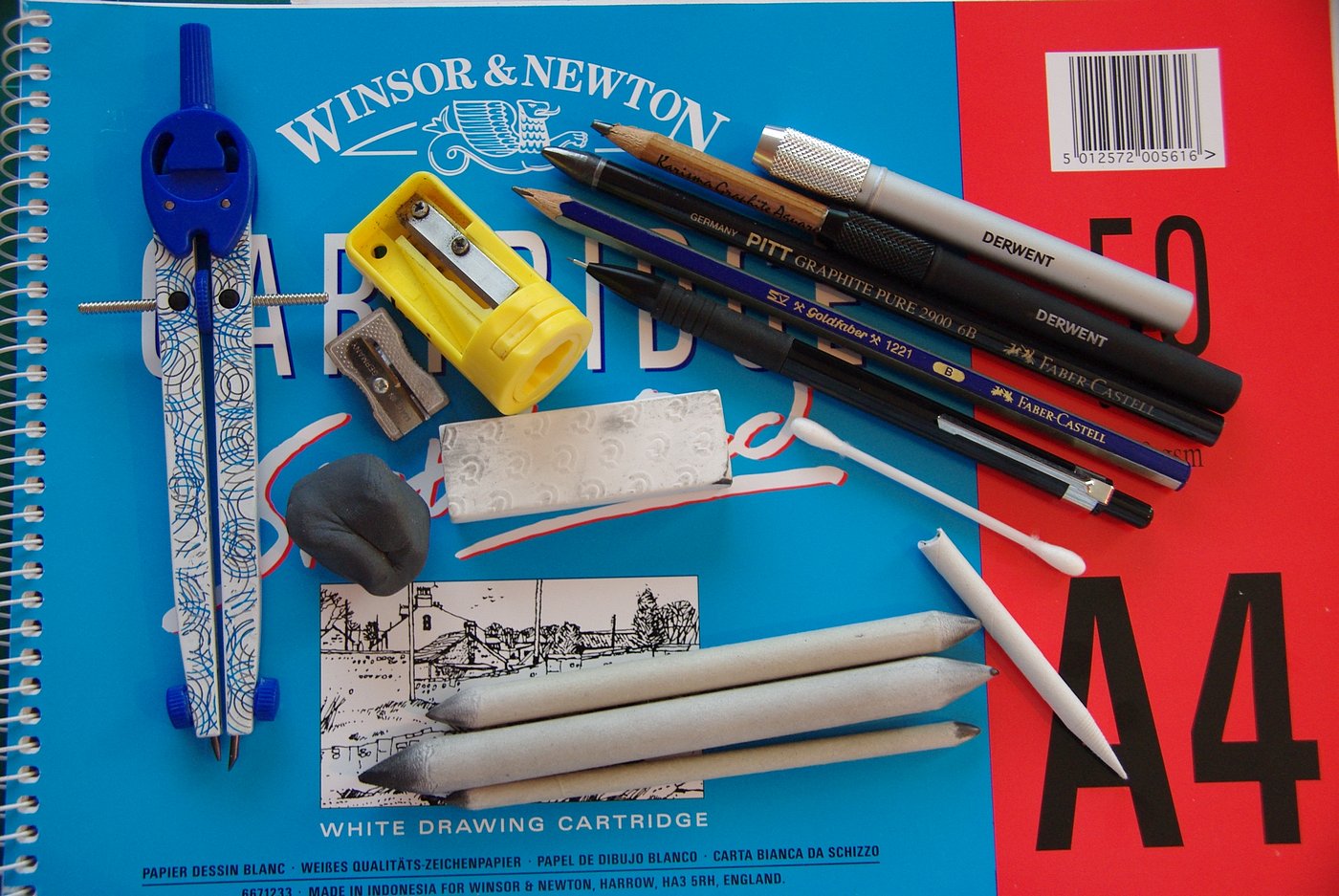 You may find it strange to see a compass and builders sharpener in this photo? Actually I find those items extremely important tools!
Compass: – This compass is designed for precise measurements, and can take two leads either side. I use this when doing a straight 1:1 drawing from reference material. When measuring to map out the template. I do draw mostly free hand and find I am fairly accurate most of the time but for delicate features that will ultimately decide if I captured likeness or not I will get out this handy tool and check it. Got it cheap from ALDI's
Builders Sharpener: – (ROLSON) This is used mostly for the big black chunky Faber Castell PITT pencil you can see. Despite being informed on the packaging of these pencils, that a normal sharpener can sharpen this beast, it does not and I always use good sharpeners! This builders sharpener will do the trick nicely and has some file texture on the side to file the lead to a point 🙂
Small Metal Sharpener: – (Faber Castell) A good sharpener is important, would you use a cheap plastic one on an expensive pencil? no, never do that, if you pay for expensive pencils use a good metal sharpener, because you will only break the lead with a cheap one!
PUTTY RUBBER: – (WHSMITH) Yep that grey clumpy ball is a PUTTY rubber. Very important piece of equipment! So many people who do not do a lot of drawing are always suprised I use a rubber, as they have been taught that an eraser is to remove mistakes. I try to explain to them to re-educate them that in ART there is no such thing as mistakes, you rework something till it is how you require. A rubber is a tool and I use it purposely and tactfully the same way as I use a pencil, for instance I make heavy dark marks quite often planning to remove some of the heaviness later with the putty rubber. It is all about using whatever is at my disposal to get the effect I require. The Putty Rubber is great for this.
Eraser: – A standard eraser although this one is Winsor & Newton, it is smudge and flake free. It does the job well enough, but to be honest cost is not totally always better. I have a cheaper Steadtler one that was not sold as an artist tool and is better. Again this is not for erasing mistakes! but if I ever do slip up it is useful 😉
Faber Castell Pencils: – 'Goldfaber Series' these have proven to be excellent pencils at the middle range cost. I used fairly good WHSMITH ones before this, but to get the results I am today, WHSMITH ones would never do it. Got to have decent pencils, 'Faber & Castell' are amongst the best about but I am not biased toward any one brand in particular. Derwent are also worth a look.
Faber Castell PITT Pencils: – '2900 series' Pure Graphite Pencils. These are chunky and woodless, they are PURE graphite and very black if you go thick enough with layers. I use these on large dark areas specially good for hair and backgrounds or clothing. This is what the Builders Sharpener is for!
Mechanical Pencils: – I have quite a few of these including various lead grades and coloured leads. These are fantastic for small details specially around eyes, lips, and mostly great for having to draw stubble and beards! I love them. They are those pencils that take those tiny long lead refills. I have 05.mm and 0.7mm pencils. Mostly use the 0.5mm. Every drawing I do will have some detail made by these pencils!
Derwent Pencil Extender: – Got two of these, they are used to extend your remaining pencil when it gets short and difficult to use. Were not cheap, and look like they should cost less but don't be fooled, they are made out of alloy and have a nice finish that feels rubbery and comfortable. They grip the pencil nicely and fit many sizes. They are worth the expense, after all you buy pencils that are expensive and why waste them when they get short? you want to use up every last bit of the pencil right?
Blending Stumps: – As mentioned elsewhere on this site, Blending stumps are used to smudge and smooth the pencil finish to get those much needed blended shades of colour, specially if drawing faces! – have 3 of these at different sizes.
Tortillions: – As you can see I placed a Tortillion in the photo, I do not use these so often as the Blending Stumps, but they are an essential tool and cheap to buy or try making them yourself.
Cotton Buds: – YES, I even use cotton buds. Sometimes that extra bit of softening requires some cotton wool, ideal aswell for removing some excess pencil if a Putty Rubber will take too much off. And great for clothing and skys.
A Drawing Pad: – The quality of the paper is up most important but also shamefully the most expensive piece. I have tried so hard to find a middle ranged price paper that is smooth enough, thick enough yet with few imperfections that make detail suddenly go patchy. I have failed yet to find this native in the UK. Even top manufacturers over here like Winsor & Newton and Derwent, Reeves, to name a few just do not sell what meets my expectation and is expensive. In the USA there are some great quality paper manufacturers like Srathmore and Canson but they are hard to get here. I have found some Canson here in UK but not the top range. Strathmore is the best and to buy it over here requires mail order and additional cost than in the USA. – So at the moment I am using a low to mid range Winsor & Newton. I am not happy with it but it is ok for now as I am still starting out. I might look in to investing in Strathmore later 🙂
Last but not least, two items I did not put in this photo:
Sand Paper: – need this to clean and sharpen up the blending stumps. A fine sand paper is best. A rough sand paper could destroy your blending stump.
Small Containers: – right you pay a lot for your good quality graphite or chalk etc? – why waste it! When I sharpen my Graphite Pencils, I collect the dust and stick it in a container with the grade written on it! – might sound overboard but it is not. You lose a lot of what you paid for when sharpening! – and believe me the cost of these material soon start to impact you when you draw a lot. Keep it in a container guys, and there is many opportunities that will occur when you will think 'oh I can use some of that graphite dust right now' to do some clothing or some clouds? who knows.
That's my list for now, thank you for taking the time to read this far, I will be back with some updates soon 🙂