So my first time using Tortillions was home made ones. I got frustrated with not knowing how to blend a face and did some research which led me to make my own set of tortillions and try them out.
Early attempts at making them failed badly, my Dad then joined in with making them and he had better results. The actual Tortillion was not bad at all but I think the paper was not too good.
Anyway, here is the drawing I did just before using any Tortillion and how I was scared to shade the face because the subject would just look old!
Last drawing before trying Tortillion:
As you can see, I struggled not making the facial features look aged. Consequences is I missed out lots of true detail and really ended up with nothing more than a sketch. But still I was pleased with my work but frustrated I could not do what I seen others do!
Frustrated then led me to make my own Tortillions and I dived straight in to try them out.
Next drawing using my Home Made Tortillion:
A home made Tortillion gave me a sudden huge improvement! although I was now limited by the weakness of my home made product! – I was very happy I was suddenly able to shade a face! although a bit patchy which as I mentioned was due to the Tortillion, I was enjoying myself breaking new boundaries that had stumped me for a long time
and the Tortillion was especially very good when it came to blending the lace dress! – time to try again with a better Tortillion?
Next drawing was with a Professionally Manufactured Tortillion: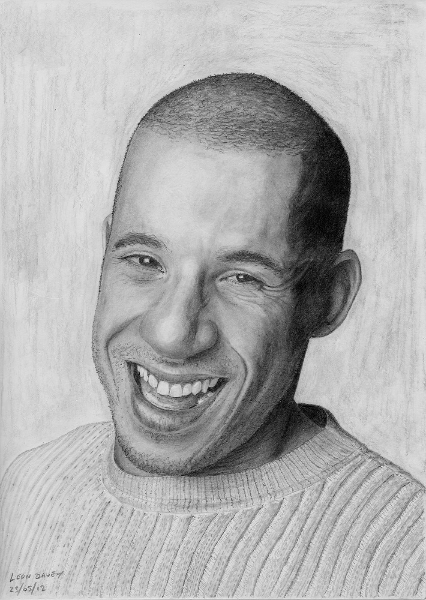 Seriously, this was my 2nd drawing with a Tortillion. And my first drawing with a proper Tortillion! – amazing what a difference it makes. I have nearly no experience with shading at all at this point but with a decent tool I was able to achieve this? – seriously if you want to draw portraits you must use 'Tortillions or Blending Stumps' – how come in my years at Art & Design classes was I not taught this simple thing? or was I just ignorant to what was being taught and happening around me?
Now I am thinking WOW what if and what if? – and I also started thinking about the quality of the paper I am drawing on, the pencils, all these things suddenly were occurring to me. Art is like any craft, you get quality results with quality tools and experience. So the quality of the Pencil, the Paper, being vital. I have been limited with my lack of knowledge on the tools required. You can not achieve professional results like I was attempting by simply picking up a cheap pencil and general use cartridge paper! – no, you need 'Faber & Castell' or 'Derwent'  and 'Winsor & Newton' as examples and still then you need to chose wisely what grade of 'Derwent' etc.
Thank you for reading and I hope this helps you understand what 'Tortillions & Blending Stumps' can do for you!
I will post further information on tools I use and techniques I am learning sortly 🙂